THE CREATORS OF
Air Caster Technology
Tech Overview
An air caster is a pneumatic device that forms a lubricating film of air between the load and floor surface, similar to that of a hovercraft or an air hockey table. A flexible, wear-resistant urethane diaphragm is inflated by compressed air, forming a seal with the floor and lifting the structure off its rest pads. Air is then squeezed between the floor and the diaphragm, creating a thin film of air and allowing the load to float.
THE WHEEL 2.0™
The wheel has been used for transportation and load movement for thousands of years, and for good reason; it's simple, easy to deploy and highly adaptable. But wheels have limitations.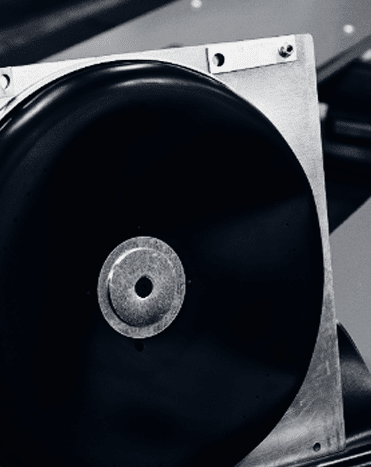 AIR REQUIREMENTS
Most plant air systems are suitable for air bearing (or "air caster") equipment. The amount of air flow required to operate an air caster depends on three variables.
FLOORING SPECIFICATIONS
Airfloat air bearings, like all air-film equipment, require a suitable floor to work properly. This does not mean that your floor must be smooth as glass to achieve floatation.
THE SIMPLICITY OF AIR CASTERS


Move Heavy Loads
With Ease
When floating on air casters, 1000 lbs. Of load can be moved with about 1 pound of force – that's 10 times better than conventional wheels or casters. Single Operators can move up to 12,000 lbs by hand.
Omnidirectional
Movement
Because air casters float on a thin film of air, they're virtually frictionless, allowing a 1,000-lb. load to be pushed or pulled with only about a pound of force. That's 10 times more efficient than traditional wheels or casters.

Operator
Safety
Airfloat Air Casters only lift the load from the floor a few milimeters, minimizing the risk of dropping or tipping the load, and elimante the need for overhead moves with a crane.
FROM AIRFLOAT CUSTOMERS


Moves that took 45 minutes are now accomplished in 5.
Automotive Manufacturing
The built-in upenders provide the option to rotate each head to the desired angle, allowing workers more easy access.
Agricultural Assembly
Use of Airfloat equipment resulted in a 50% reduction in the time required for this repair.
Nuclear Energy